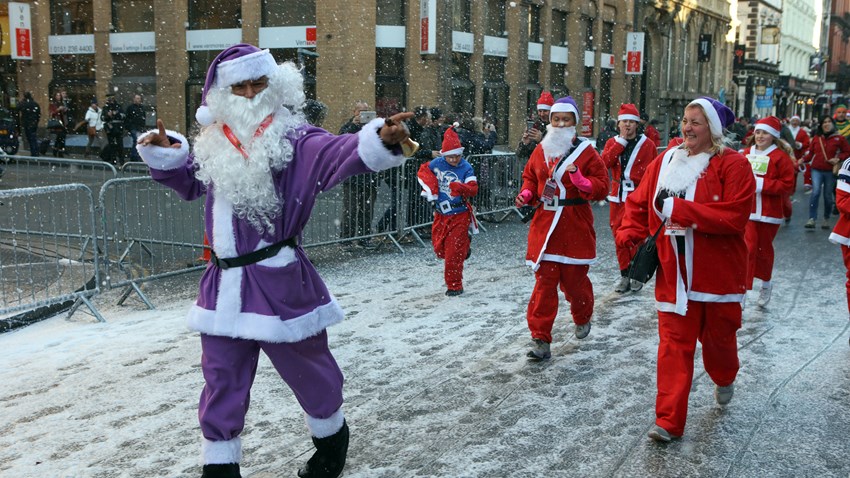 Team #FitForMe had an amazing time at the Liverpool Radio City Santa Dash this weekend - with our Purple Santa Miguel Doforo leading the gang. 
Accompanied by purple hat-wearing 'elves', Miguel supported the Fit For Me campaign by donning a full Purple Santa suit to take the 5K route around the city.
Miguel is more used to the stage than the race track, having led his MD Productions dance troupe into three Britains Got Talent competitions and around the world, performing alongside big name stars and singers.  But he wanted to show his support for the campaign on Sunday.  And his presence made a fantastic addition to the most fun-filled 5K Liverpool has to offer.
As Miguel and the elves ran, jogged and walked their way through the city streets, cries of 'Ooo... theres a Purple one' and 'Look theres that Purple Santa again!' could be heard from the crowd, clearly enjoying the novelty.  Meanwhile, the elves helped runners and spectators get selfies with the Purple one, getting the Fit For Me messages out to everyone they spoke to.
Like doing whats right for you - however small that might be - and that it doesn't have to be a marathon to get active.  It could be as easy as taking a walk to the shops or dancing to a fave track on the radio.  Making getting active fun is the key to enjoying it and taking part with a friend or family member helps us keep going - both things that the Santa Dash is great for.  
Miguel knows this and the campaign fits perfectly with his work at MD productions, where they are working on a new initiative, Blank Canvas, using performing arts as a tool to inspire, engage and get active for free – anyone anywhere any age - across the City Region. The project will be supported by local businesses and they have a team of professional key workers who will wrap a support system around the whole creative journey. Sounds good stuff.
And the best thing about the race this December is that Liverpool made its mark (again) by becoming the biggest Santa Dash world wide this year - such a great achievement! Well done to all the Liverpool runners, walkers, skippers and hoppers who took part. For those who managed to snap a selfie with the Purple Santa, find out how you could win a Fitbit Flex here.
Lets hope that for as many people as possible, having fun through the Santa Dash starts or continues their journey to becoming more active. And when Santa's job is done this December, here's to enjoying being active well into 2017.
The Radio City Liverpool Santa Dash is organised by BTR - more information can be found here.