The new year has rolled in and we've resolved to do things differently; drink less perhaps, or join the gym. But being more active can be at your own pace this January and February. 
Believe it or not, you don't need to spend hours and hours exercising to live an active lifestyle. In fact, just doing 10 minutes of activity here and there can make a big difference. Trying something new or enjoying activity with friends can help find the right fit for you when it comes to doing a bit more physical activity. 
This page has a variety of fun, flexible activities that can fit into your daily routine. So, whether you've got a busy work life, a family to take care of, a baby on the way or something else that keeps you busy, why not give these a go?
Dance through 2017!
Dancing is a great way to be more active. You could try going to a dance class  - ever tried Zumba or Clubbercise? - or just stay at home, switch on your radio and go for it!
Try something new
Doing something you've not done before can be daunting but going with friends or family can make it easier and fun too. Have a look at some ideas for activities to try here. Or find out what else is on across Liverpool by searching the 'getting Active' section of the LiveWell Liverpool City Region directory.
Walk more with friends or family

Take advantage of Liverpool's amazing parks by going for a walk with friends or family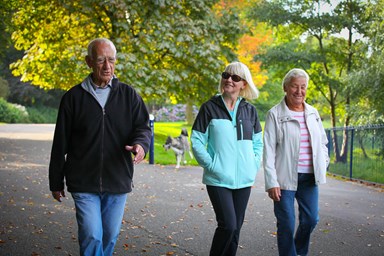 It's a great way to be more active as well as a chance to have a good catch up, and there are lots of organised Park Walks across the city to join if you fancy.
Leave the car at home
If you're going shopping or meeting up with friends nearby, why not try walking instead of jumping straight in the car? This could really help you to be more active and feel good!
Add some activity 
to your TV breaks

You can fit some extra activity into your day whilst watching TV by doing some gentle jogging on the spot during the breaks. Get the kids involved too! Or if jogging on the spot is not your thing, or you'd like to try other activities like this, take a look at these.
Bin for a walk?
When you take the bins out, try taking a quick 5-minute walk up the street in one direction and then back in the other as an easy way to squeeze a bit more activity into your day!
Shorten your bus journey
Waiting for the bus? If its not too far, why not walk to the next stop instead of standing still?  Or you could get off a stop earlier instead. Adding a walk to your bus rides not only helps you to be more active, it also gives you time to clear your head.
Play a sport with your friends
It doesn't matter whether it's football, rounders or bowls, getting together for a game is a great way to be more active and have a laugh. There are lost of sports to enjoy without being formal or competitive - our suggestions for where to start if you've not played for a while can be found here.
Walk the kids to or from school
Add some extra walking to your daily routine and set a good example to the children. Even if you have to take the car or bus, why not stop a little further away and enjoy a brief walk.
Walk the dog via the scenic route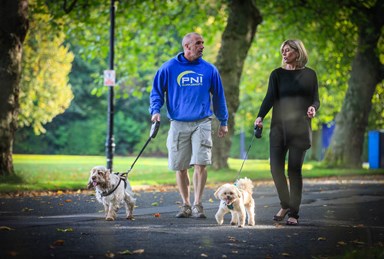 If you're walking the dog, try taking a different route to your usual. Mix it up and take a slightly longer route where you can - the more scenic route perhaps.  You never know who you'll meet and there could be a new dog-walker friend just around the corner!
Choose the stairs instead of the lift

Taking the stairs, at your own pace, is a great way to fit being active into your daily routine. It's not a big change but it can really help you have a more active life.
Make your work-break work for you
Get away from your desk now and then for a quick 10-minute walk. If your work in an office with stairs, walking up and down these can give you a really quick and energetic workout and help improve concentration too.
And if you've not yet signed up for the Liverpool Active City Workplace Challenge - now's the time! Theres loads of prizes that can be won, so don't miss out.
From dinner to winner
Try taking a 10-minute walk after your lunch. This is a good way to break up your day if you spend all day at home or sat behind a desk. If you're popping out for food on your lunch break, why not try a cafe or shop on a route that takes you a little bit out of your way. 
10-minute disco
Pop the radio or music on for 10 minutes and dance along to your favourite songs. You can do this alone or it can be good fun to get the whole family to join in.
Throw some shapes on the dancefloor!
Bet you didn't think you could turn a night out into a workout! But dancing with your friends on a night out does count as being active, so get out there show the world your moves.
Give it 10 minutes more
If you're already doing something active like swimming or walking the dog, try adding an extra 10 minutes to your activity.
Plan more active days out
If you've got some free time don't waste it sat at home in front of the TV, get outside and enjoy some of Liverpool's amazing parks. Or if you've got kids, try something new to get everyone active.
Powerwalk to the papershop
Take a morning powerwalk to the local newsagents and back. This is a good way to wake up and keep up to date with the news.
Walk while you wait
If you have to wait for your child to finish any extra lessons they have such as swimming or music, take a quick walk around the block whilst you're waiting. This can also work at home, try climbing the stairs for ten minutes whilst dinner is in the oven or you're waiting for the bath to run.