Being active is important to help improve mood, sleep, reduce stress and help you to fell good. There are lots of inclusive activities for you to try, regardless of your ability level you will be able to find something that fits in with you.
This page shares a number of activities across the Liverpool City Region that you might want to give a go! These activities will not only be fun, but help you build new friendships and feel part of a group. If you are not ready for group activity, don't worry, there are some tips on where to start or home based exercises you can try to start you off. We also have ambassadors Aaron and Brian, who have shared their stories about being active.
We understand that it can feel difficult to find an activity to try when you have a disability. This page will hopefully help you find an activity that you are interested in trying and help you on your active journey!
Liverpool
LFC Foundation
Daisy Inclusive UK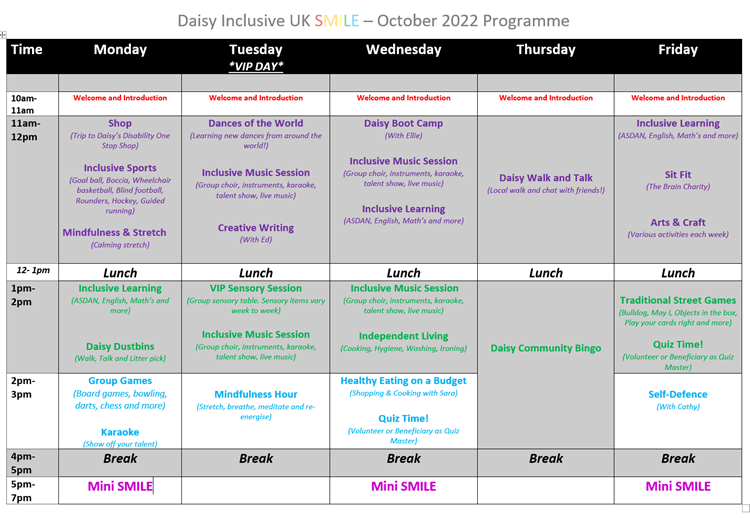 Greenbank Sports Academy Rebound Therapy
Wheels for All Merseyside - Across Liverpool City Region
https://app.squarespacescheduling.com/schedule.php?owner=23859587&calendarID=6005526#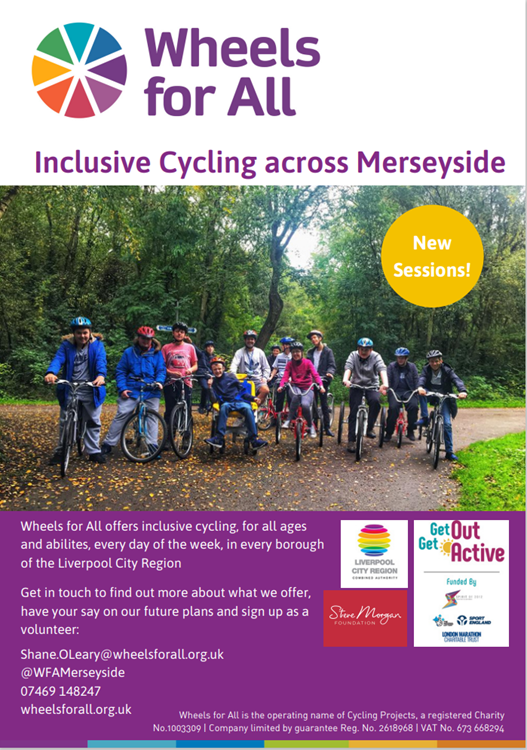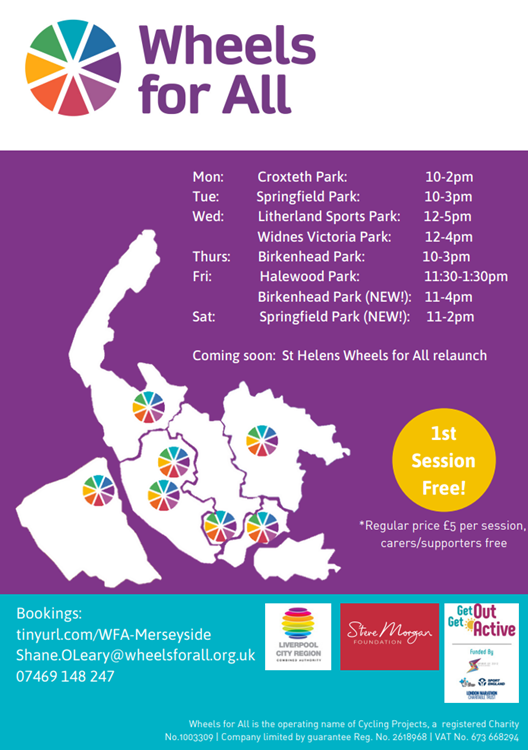 Wheels for All is the largest provider of inclusive cycling in the UK, with over 50 centres across England and Wales. As a charity we believe that everyone should be given the opportunity to cycle on their own terms, regardless of age, ability or experience. We provide a range of inclusive cycles at our centres, including trikes, handcycles, recumbents, sociable tandems and wheelchair transports, which means we can offer cycling to everyone who comes along: when we say 'Wheels for All,' we mean it!
Booking 1. Web tinyurl.com/WFA-Merseyside 2. Email: shane.oleary@wheelsforall.org.uk 3. Call/text 07469 148 247. 1st session free, £5 per participant with no charge for carers/supporters. Helmets provided
Halton
Table Tennis - Contact: Halton Table Tennis Club facebook or website or at k_tonge@sky.com
Inclusive sessions daytime or evening. Ages 7 - 90+  Pre-booking is essential Membership is £5 for under 18s to £10 for over 18s with £2 per session.
Halton Table Tennis Club, DCBL Stadium, Lowerhouse Lane, Widnes WA8 7DZ. Venue is accessible with parking and ramps.
Wirral
The Hive
Powerchair Hockey/Football, Mondays 6-7.30 (except bank holidays)
A fun inclusive sport for Powerchair/Wheelchair users, Ages 8-19
Super 1's Inclusive Cricket – in Partnership with Cheshire Cricket.
Mondays 5-6 Term time only, Ages 12-25  
Launching in October
Wheelchair Basketball Club
Each Monday 4-5 (except Bank Holidays), Ages 8-19
Hiveability session – For young people aged 8-25 with a disability or additional need
Every Sunday 10-2
www.thehiveyouthzone.org 
St Helens