Liverpool Active Workplaces
Employer Resources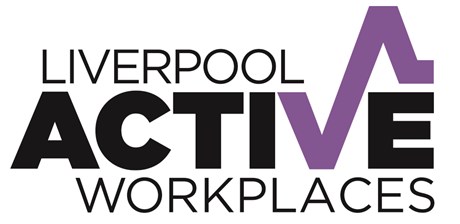 The Liverpool Active Workplace Toolkit has been developed to support employers in promoting the benefits of physical activity to employees.  It brings together best practice and demonstrates the benefits for employers in developing an active workforce.  The Toolkit includes lots of ideas that employers can try to enable employees to become more active - all are designed to be low cost, quick and simple to implement!
 Benefits of an active workforce:
Better Morale and Lower Staff Turnover
Improved Productivity, Staff Communication and Wellbeing Levels
Absenteeism reduced by up to 27%
Demonstrates Corporate Social Responsibility
Ref: British Heart Foundation's Health at Work - Economic Evidence Report for Workplace Health (2016) \ 2016/17 Liverpool Active Workplaces programme evaluation report
The Toolkit is supported by the Fit for Me campaign 'inspiring everyone living and working in Liverpool to become more active' and will be available for download after 11am on 20th May 2021.
For further information about the Toolkit, please contact the Physical Activity & Sport Development team at PASDev@liverpool.gov.uk or on 0151 233 4259.
If you are looking for additional practical tips for keeping your workforce active, we have created some really useful videos for how you can fit 10 minutes of activity into your working day - LAW Videos